When you spend a lot of your life looking at design, you end up feeling sick from time to time. It's a hazard of the job. Someone told me that they bought a house so fast they didn't realize the bathrooms were pink—not pretty art deco pink, but tacky 1970s pink—and they wanted to put up police tape. "It's just so wrong."
I was thinking I should start a whole new blog called "It's Just So Wrong." In the interim, I will just put this post up. When I have gathered a few more of these in my wicker basket, I will let you know.
Gold-Plated Bertoia Chair from Knoll
A gold-plated Warren Platner chair (also recently introduced by Knoll) isn't such a travesty, because that man loved brass. I will probably get in trouble for saying this, but Platner's décor was a little midcentury gay. He liked sparkle to set off his austere buildings. But Bertoia? He used bronze in his artworks and perhaps gold in his brooches, but his chairs were about the moment where the machine age met the handcrafted age, with a result that was almost affordable. That meant white or black and later chrome. Good design for the rest of us. But gold plated? Ick.
Low-Slung Pants
This is an old one, but I still hate it. Besides the impracticality of wearing trousers slung below the waistline, it also does nothing for the male butt. Those "low-rise" jeans just flatten out the ass. I think they were a conspiracy by the brand builders at designer underwear companies. Have you noticed anybody with underwear that advertises J.C. Penney or Sears? I didn't think so. Wear some decent pants and stop sharing overpriced underwear, or worse, ass cracks. There is a time and place for everything, and I don't think it's the middle of the day.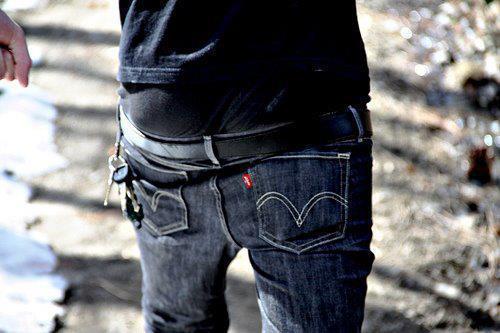 Aquamarine Maserati
I do not lust after Maseratis. But the other day in Oakland I saw a matte aquamarine-colored Maserati. I thought it must be an ironic joke that I didn't quite understand. But when I was talking with a car buff, he said that he had seen one in Italy, and indeed it is a standard color. A Maserati should be red, black, or maybe aubergine. But it should not be the color of Barbie's 1960s-era Austin-Healey.