The palo verde and other desert plants were in bloom. As we drove up the curves of North Campbell Avenue into the foothills, the landscape obscured the less attractive buildings and framed the Catalina mountains. A dry desert paradise.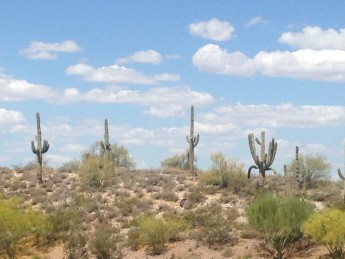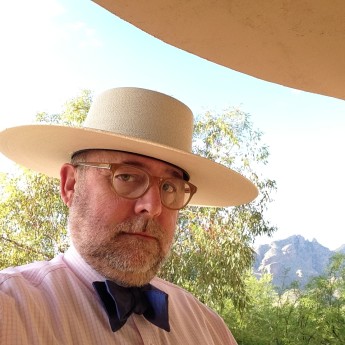 We went to Tucson for a quick weekend to attend our friends' daughter's quinceañera. We remember when she was a huge baby in a crib in our apartment a few years ago—15! Now she is an elegant, slender beauty in a Tiffany blue gown. A Cuban Grace Kelly! She moved effortlessly across the dance floor, and her hands looked as if they had been pointing out handsome boys for years. All of the kids seemed older and far more confident than we were at that age, and far better dancers. Happy to see a number of bow ties too.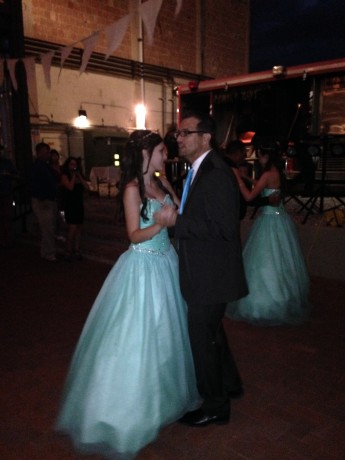 Before we went to the big party, we stopped at one of the cultural centers of Tucson, the Museum of Contemporary Art (MOCA). When we first saw this space, it occupied a funky warehouse downtown. Under the leadership of Anne-Marie Russell, the institution moved into the former main firehouse—a beautiful concrete midcentury brutalist building that was intact and empty. It turned out to be the perfect backdrop for the current retrospective of a 92-year-old painter, Robert Barber. What is unbelievable is that this is his first major exhibition.
A few years ago, Anne-Marie and curator Jocko Weyland went to an exhibit at the nearby Tucson Museum of Art and saw two paintings by Barber. They were impressed, although they hadn't heard of him. They located Barber and went to see his Tucson studio where hundreds of paintings were stored. He had been at it for almost 70 years, and nobody knew.
He taught art in the Tucson public schools and kept following his intuition. One of the amazing aspects of this show is the underlying strength of the individual. With little encouragement, he kept working and evolving. The commercial aspect had no impact on what he chose to draw, paint, or sculpt. He was aware of trends in the culture and in the work of other 20th-century artists. At times, his work shows a kinship to a variety of artists: Hofmann, Kline, Mitchell, and Thiebaud, for example. Perhaps the most significant influence is Philip Guston, with whom he studied in 1950. You see this in the floating forms in the abstract pieces and also in the bizarre figurative pieces that he painted later. Even though a painting like "The Lab" is gruesome, Barber's realistic pieces are not depressing like Guston's post abstract work. The effusive use of color helps the viewer look for some hope. For me, Barber's perseverance is the emotional narrative for this show.
The art historical narrative is also worth noting. It is rare to find an older artist with so much of his output intact. It is also rare to see so much continuity in each era. This is a treasure trove for future historians of 20th-century American art. The MOCA curators wanted to mount the exhibit as soon as possible because of the artist's advanced age. More work remains to be done in cataloging the archive and then conserving it. The desert may be an inspirational place for artists, but it is not so kind to their work if it isn't properly stored. The MOCA crew has brought Barber recognition in the desert community and saved this important artist's work so future generations can see and understand it.
Anne-Marie has recently announced that she is leaving Tucson to take over as executive director of the Sarasota Museum of Art. This exhibition is a triumphal last hurrah.